Assembly Development Materials
Assembly Development Materials
Assembly Development Materials
Download Instructions
Please read and follow the Terms of Use.
Before you begin, please note that many of these files are LARGE. We strongly recommend that you save the files to your local drive, then open them.
To save the files, follow the instructions appropriate to your operating system and web browser. For example, Windows Internet Explorer users should point to the file link, click the RIGHT mouse button, and select "Save target as..." on the popup menu.
These files are in Adobe Acrobat (PDF) format and require the Acrobat Reader from Adobe.
top
Overview of Assembly Development Workshops
Assembly development module workshops are useful resources for Local Spiritual Assemblies that are seeking assistance with their development. Each of these practical workshops has participants explore the Bahá'í Writings on the topic and use discussions and other participatory activities to assist in the application of what has been learned to the person's life. There are training workshops suited to Assemblies, communities, and individuals at different stages of development and with a wide range of needs.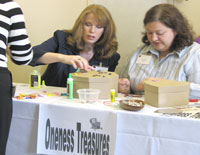 While most of the workshops are designed to last about three hours for the core elements, they can be lengthened or shortened to suit the needs of participants. Optional extension segments are included for each workshop and are highly recommended. When facilitated with a group of 5-9 participants from the same Assembly, the workshops should require the amount of time listed in the descriptions below. A larger or more diverse group will require extra time for group discussion and reporting back.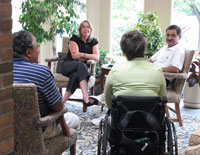 If your community is interested in participating in one or more module workshops, you have the option to make use of the services of an Assembly Development Representative to facilitate the workshop, or you may select any skilled trainer and purchase a Facilitation Guide that contains clear instructions on presenting the workshop.
If you choose to use an Assembly Development Representative, you can look up the name and contact information for the representative(s) in your area (available on the administrative web site www.usnbc.org) and contact them directly. If there is no representative listed for your area, or you have general questions, you may contact the Office of Assembly Development at (847)-733-3490, or by email: This e-mail address is being protected from spambots. You need JavaScript enabled to view it . If you are making use of your own facilitator, you should purchase the Facilitation Guides.
top
Download Assembly Development Materials
Click on the title of any item to begin the download.
Advanced Practice in Administering Justice: Focus on Domestic Violence
This workshop provides Assemblies with further opportunities to practice administering justice, focusing on the specific issue of domestic violence. Its objectives are to increase familiarity with guidance concerning violence and abuse and to refine skills of principle-based decision making through use of case studies. A special 20-page section of supplementary readings, not covered in the workshop, is provided for the Assembly's future use. The length of the core workshop is 4 hours; the full workshop, including extension sessions, is approximately 4 1/2 hours.
Download PDF Participant Handouts
Download PDF Facilitators Guide
Applying of Spiritual and Administrative Principles
The subject of this workshop is the application of Bahá'í principles to matters within the jurisdiction and function of the Local Spiritual Assembly. Its goal is to strengthen the Assembly's ability to apply principles to decision making. The workshop clarifies the difference between principles and procedures, and it enhances participants' ability to perceive the unity underlying the seemingly opposite responsibilities of being loving shepherds and upholding justice. The material provides practice in recognizing and extracting principles from text. Use of case studies allows practice in applying principles to the facts of particular situations. This workshop is designed to last 3 hours long and has optional extensions.
Download PDF Participant Handouts
Download PDF Facilitators Guide
Bahá'í Electoral Practices
This workshop is targeted to individual electors, rather than to Assemblies. Its objective is to increase electors' appreciation of the sanctity of Bahá'í elections. It covers the necessity of elections in the Administrative Order; participation in elections as a sacred responsibility; practices that are required or forbidden in Bahá'í elections, and the spiritual principles underlying this guidance; and specific ways in which Bahá'í electoral practices differ from secular elections. This material will be especially helpful to communities with low participation levels in elections or where electoral practices may not be well understood. This workshop is 2 hours long and has optional extensions.
Download PDF Participant Handouts
Download PDF Facilitators Guide
Becoming a More Efficient and Effective Assembly
This workshop is designed to help Assemblies perceive the relationship of efficiency and effectiveness to the demands implicit in entry by troops, gain a more thorough understanding of the duties of Assembly Secretaries and Chairs, and develop an appreciation of the need for a diversity of process skills within the Assembly. The focus is on finding practical ways to express the spiritual qualities of efficiency and effectiveness in the Assembly's functioning through development of specific skills, such as time management, agenda planning, and delegation. When facilitated with a group if 5-9 participants from the same Assembly, this workshop will require approximately 2 hours for the core material plus additional time for each optional extension. A larger or more diverse group will require extra time for group discussion and reporting back.
Download PDF Participant Handouts
Download PDF Facilitators Guide
Conflict Resolution Part 1: Conflict and the Individual
This workshop is targeted to individuals, rather than Assemblies. Its objective is to provide a shared understanding of what attitudes and behaviors have been forbidden by Bahá'u'lláh and learn how to distinguish these from the healthy "clash of differing opinions." It focuses on the role of individual choice and explores the new behaviors and attitudes Bahá'ís are called to display as they resolve their conflicts. It also provides an opportunity to let go of old hurts and grievances. The length of the core workshop is 3 3/4 hours; the full workshop, including extension sessions, is approximately 5 hours.
Download PDF Participant Handouts
Download PDF Facilitators Guide
Conflict Resolution Part 2: The Assembly's Role in Managing Conflict
This workshop, targeted to Assemblies, builds on material covered in "Conflict Resolution Part 1: Conflict and the Individual." It examines the dynamics and stages of conflict and also explores the roles and options open to Assemblies managing conflict and dealing with disruptive individuals. Case studies provide opportunities to apply principles to specific conflict situations. A special section of supplementary readings, not covered in the workshop, is included to provide additional helpful perspectives on conflicts related to business matters. The length of the core workshop is 4 1/4 hours; the full workshop, including extension sessions, is approximately 7 1/2 hours.
Download PDF Participant Handouts
Download PDF Facilitators Guide
Consultation Part One: Developing the Requisites of Consultation
This workshop focuses on examining consultation—what it is, how it differs from other forms of group decision-making and what its prerequisites are. It includes an opportunity for participants to assess their level of mastery of 16 consultative skills and to develop a personal action plan for enhancing their ability to consult. This workshop is 3 hours and 20 minutes in length and has optional extensions.
Download PDF Participant Handouts
Download PDF Facilitators Guide
Consultation Part Two: Consulting in Unity and Harmony
This module builds on the work done by individuals in Part One to prepare for consultation. Its primary focus is how to create and maintain healthy group dynamics in the Assembly. It includes a unity-building exercise and an evaluation of the Assembly's current consultative climate. This module is 3 hours long and has an optional extension.
Download PDF Participant Handouts
Download PDF Facilitators Guide
Developing a Strong, Vibrant Community
This workshop explores the role of the Assembly in the process of community building. It deepens appreciation of what Bahá'í community life is intended to be and introduces elements of a systematic planning process of community development. The workshop contains activities to help identify reasons why believers may withdraw from active involvement in the community and to discover ways to lovingly intervene and draw them closer. It also includes activities which an Assembly can use with its community to assess the needs of community members and to identify member' skills and resources, and an exercise to examine current activities and processes of community life. This workshop is 3 hours and 15 minutes long and has optional extensions.
Download PDF Participant Handouts
Download PDF Facilitators Guide
Domestic Violence and the Bahá'í Community
This workshop is targeted to individuals and the Bahá'í community as a whole. A companion workshop, "Advanced Practice in Administering Justice — Focus on Domestic Violence," is designed for use by Local Spiritual Assemblies. This workshop explores Bahá'í guidance concerning violence and abuse. Participants will become familiar with appropriate courses of action open to individuals who experience or become aware of domestic violence within the Bahá'í community. A special section of supplementary readings, not covered in the workshop, is included to provide additional helpful perspectives on domestic violence. The length of the core workshop is 3 1/2 hours; the full workshop, including extension sessions, is approximately 5 1/2 hours.
Download PDF Participant Handouts
Download PDF Facilitators Guide
The Equality of Women and Men Part One: A Shared Responsibility
This workshop module is targeted to individuals, rather than Assemblies. It explores the complementary roles of women and men in establishing the partnership between the sexes described in the Bahá'í Writings. It surfaces assumptions participants have about women and men and examines the example of Bahíyyih Khánum. The workshop also contains a visioning exercise and opportunities for individual and group reflection. This workshop is 3 hours and 5 minutes long and has optional extensions.
Download PDF Handout
Download PDF Facilitators Guide
The Equality of Women and Men Part Two: The Assembly's Role in Fostering Partnership
This workshop builds on the work done by participants in "The Equality of Women and Men, Part 1: A Shared Responsibility." It explores the role of the Assembly in this task and describes resources available to help the Assembly. The material also contains opportunities for the Assembly to examine current patterns and practices in the community and to assess the extent to which women have been welcomed into partnership in various aspects of community life. This workshop is 3 hours and 20 minutes long and has optional extensions.
Download PDF Handout
Download PDF Facilitators Guide
Fostering a Climate of Love and Unity
This workshop, appropriate for both Assemblies and individuals, focuses on building loving, cohesive communities. Through reflection on metaphors, it creates a deeper appreciation for the degree of unity to which we are called and an awareness of the consequences of achieving this level of unity. The workshop examines in depth various attitudes and behaviors that enhance or undermine unity, and it provides opportunities for individuals to reflect on changes they can make as a contribution to the process of community building. A brainstorming activity uncovers ways to practice active kindness individually and collectively. The workshop also explores the Assembly's role as a facilitator of community life in a wholly new mode. The length of the core workshop is 4 hours; the full workshop, including all extension sessions, is approximately 5 1/2 hours.
Download PDF Handout
Download PDF Facilitators Guide
Fostering Racial Unity
This workshop explores the role of the Assembly in eliminating prejudice and fostering oneness, in partnership with individuals, and lists resources available to the Assembly to help in this task. It contains an exercise to help Assembly members assess and increase their ability to model racial unity in their own lives. It also includes an opportunity for the Assembly to examine current practices in the community and assess the extent to which diversity is incorporated into various aspects of community life. This workshop is 3 hours and 15 minutes long and has optional extensions.
Download PDF Handout
Download PDF Facilitators Guide
The Individual and the Local Spiritual Assembly
This workshop is targeted to individuals rather than Assemblies. Its objective is improving the way in which individual Bahá'ís, both elected and electors, relate to the Assembly. Its focus is on acquiring a vision of the relationship intended by Bahá'u'lláh between individuals and Assemblies and on identifying ways in which individuals can personally support the growth and maturation of Assemblies. This module is 3 hours long and has optional extensions.
Download PDF Handout
Download PDF Facilitators Guide
Restoring the Spirit: Celebrating the Nineteen Day Feast
This workshop is equally useful to Assemblies and to individuals. Its objective is to create a deeper appreciation of what the experience of Feast is intended to be and to begin the process of consulting on creative ways to enhance and refine the celebration of Feast. Activities provide familiarity with the framework, purpose, and possibilities of the three parts of Feast. The workshop also focuses on preparation for Feast; integrating the arts into Feast; planning Feasts that meet the needs of children, youth, and adults; incorporating cultural diversity; and uniting hearts through hospitality and fellowship. This workshop is 4 hours long and has optional extensions.
Download PDF Handout
Download PDF Facilitators Guide
The Spiritual Nature of Bahá'í Elections
This workshop is targeted to individual electors, rather than to Assemblies. Its objective is to increase electors' appreciation of the sanctity of Bahá'í elections. It covers how electors should prepare themselves throughout the year to perform their sacred duty; qualities to consider and ignore in deciding who to vote for; and the atmosphere that should characterize any Bahá'í election. This material will be especially helpful to communities that want to increasingly spiritualize the context in which their elections are held. This workshop is 2 hours long and has an optional extension.
Download PDF Handout
Download PDF Facilitators Guide
The Spiritual Nature of the Local Assembly
This workshop is based upon the prayer revealed by 'Abdu'l-Bahá for the Spiritual Assembly. Its purpose is to help members of a Local Spiritual Assembly gain a firmer grasp of the spiritual nature of the institution and to explore what members can do individually to help the Assembly rise to a higher level of maturity. This workshop is 3 hours long and has optional extensions.
Download PDF Handout
Download PDF Facilitators Guide
Stress Management and the Bahá'í Community
This workshop focuses on sources of stress, the emotional and spiritual dynamics of stress and attitudes and practices that individuals can use to reduce stress. It includes time for the Assembly to identify practical steps it can take to decrease stress and increase energy, vitality, and joy in the community. This workshop is 3 hours and 20 minutes long and has optional extensions.
Download PDF Handout
Download PDF Facilitators Guide
top