Teacher Training Materials
Teacher Training Materials
Teacher Training Materials
Download Instructions
Please read and follow the Terms of Use.
Before you begin, please note that many of these files are LARGE. We strongly recommend that you save the files to your local drive, then open them.
To save the files, follow the instructions appropriate to your operating system and web browser. For example, Windows Internet Explorer users should point to the file link, click the RIGHT mouse button, and select "Save target as..." on the popup menu.
These files are in Adobe Acrobat (PDF) format and require the Acrobat Reader from Adobe.
Ordering Instructions
If you wish to order the materials, please contact the Bahá'í Distribution Service at (800)999-9019 or visit http://www.bahaibookstore.com/index.cfm.
top
Download Training Materials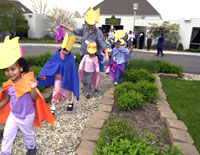 Click on the title of any item to begin the download.
top